The first thing to tackle when you are trying to get in shape for swimsuit season is not how many calories you eat or how often you go to the gym: it's your brain. "People say they want to lose weight, but they still want to eat anything they crave," Ian K. Smith, MD, the best selling author of Shred: The Revolutionary Diet tells Yahoo! Shine. "You have to realize your habits haven't been working for you and truly be open to change."
With Memorial Day just around the corner, are you ready to commit? If so, Smith, who was appointed to the President's Council on Fitness, Sports, and Nutrition in 2010 and was the medical/diet expert for six seasons of Celebrity Fit Club, says it is possible to get a beach body in four weeks, or, depending on how much weight you have to lose, at least "make a good dent in a beach body. The body can contour quite nicely in four weeks, especially when trying to fit into a swimsuit or drop a clothing size." Angela Lemond, RD, and national spokesperson for the Academy of Nutrition and Dietetics adds that now is the perfect time of year to start a weight loss plan, "Most people get a bump of energy in the spring," she tells Yahoo! Shine, "I advise my clients to take advantage of that."
Here are our experts' tips for losing weight and shaping up by summer:
Eat six small meals a day.

Smith recommends spreading your meals over the day to keep up your blood sugar up and avoid feeling hungry. He also says don't eat your last meal within 90 minutes of going to bed for the night.

 

Exercise four times a week.

Thirty minutes of moderate exercise burns calories and builds muscle. "You'll get the tone you want for your swimsuit and improve your health over the long run," advises Smith.

 

Go for the crunch.

Research shows that crunchy foods are more satisfying. While the scientific mechanism is not fully understood, Smith says, "if your fingers and mouth are busy with crunchy foods such as carrot sticks, you are much less likely to indulge in unhealthy options."

 

Avoid crash diets.

Lemond warns that cutting back calories too drastically leads to muscle loss because the body will metabolize tissue for energy. Not only does it look great and make you feel strong, the more muscle you have, the more calories your body burns.

 

Snack on filling but low calorie foods.

Smith recommends foods that are high in water content such as cucumbers, tomatoes, grapes, and citrus fruits or high in fiber such as apples or whole grains.

 

Eat before you eat.

Before a party or dinner at a restaurant, eat a green salad or bowl of fruit or vegetables. "You'll have less of an appetite," says Smith, "and counterbalance the less nutritional snacks you might sample." Likewise, never skip a meal.

 

Track your daily food intake and exercise.

Lemond says food diaries keep you accountable, and loves tracking apps such as

Lose It

.

 

Make a meal plan

. "A salmon salad looks a lot more appealing when your hunger is at level two than when you are completely empty," says Lemond. When you are really hungry you are more likely to grab high-fat and high-sugar foods.

 

Don't over-rely on the scale.

While you should weigh yourself once a week, other indicators, such as the fit of a favorite item of clothing, may be better-and more encouraging-indicators of progress.

 

Pick a perfect plate.

Smith recommends eating meals on a salad plate. Research shows that people consume less when they eat from smaller dishes.
Smith and Lemond agree that losing weight and keeping it off over the long run to improve your overall wellbeing should be the most the most important goal. "You have to think about the 'Why's'" says Lemond. She points to research that shows that the people who maintain their weight for three years or more initiated their diet to improve their health and quality of life not simply their appearance.
Check back with Platinum Body Performance for more diet and nutrition advice.
- Article from Yahoo! Shine
There is a lot of hype going on in the news and on blogs about the FDA's recent action on HGC. To help some of you with the confusion the FDA went after a bunch of companies that sell homeopathic HCG. The regulators said the marketing of the products makes them "unnapproved new drugs." The FDA is citing that a person would lose as much on a 500 calorie diet without homeopathic HCG as they would with it.
On December 6th, 2011 the FDA sent out warning letters to six of the largest online homeopathic HCG retailers. The letters told retailers that they have 15 days to remove any information on their websites, products or marketing material that suggests in any way that homeopathic HCG helps users lose weight. A few of the websites have already completely shut down.
For the companies that received warning letters, they are trying to tip-toe around the vague FDA regulations by labeling bottles differently. Instead of bottles that say 'Homeopathic HCG," they will instead read 'Homeopathically Processed HCG.' Also, the homeopathic HCG will now no longer be able to even contain trace amounts of the actual HCG hormone as indicated by 6X, 12X, 30X etc. The HCG companies will now be required to sell an HCG type appetite suppressant which, when boiled down to the truth, will mostly be a vitamin cocktail.
The FDA says that HCG, whether prescribed or homeopathic or vibrational or any other way, has never been approved for weight loss. I has been approved for use in fertility treatments and for some late blooming males, but never for weight loss.
Aside from the issues with HCG, the FDA says a 500-calorie diet by itself is pretty risky, "You can get gallstones and develop other health problems from such severe restrictions on what you eat."
This has created a lot of buzz in the HCG community, even spurring HCG Weight Loss Cure Guide author, Linda Prinster to start a petition in an attempt to reverse the ban.
All the publicity is causing a lot of uncertainty in the HCG community. Many people are now questioning the reliability of HCG products, retailers and information. "Nobody knows who is selling 'real' HCG or if it will work," says Samantha Hargeen, first time HCG user. "I wanted to lose a few pounds BEFORE the holidays and don't know what to believe."
There are many people, myself included, who can attest to the effectiveness of the HCG diet.
Some say its the drug companies and government trying to intervene. We can't say. There are so many great success stories and issues like this are what give a bad name to dieting. Humans are volitional beings and as such should take note of the facts presented by the thousands of blog posts on this site alone as testament to the positive effects of HCG.
You probably think you have a good idea of what is 'good' for you and what isn't even though we too often choose to ignore that information.
It's a sort of common knowledge that fast food is generally recognized as unhealthy, although some places are improving. Grocery stores are displaying products with labels claiming everything from 'light' to 'low fat' to 'net carbs' and 'sugar alcohols?' As a personal trainer and health and fitness nut, even I sometimes get confused. The question I get asked most often, however, is this, "How do I lose weight fast?" This question is asked so often in fact, that it is often among the top ten Googled phrases in any given month!
I feel like I answer this question so often that I could recite the answer backwards while running with the bulls in Pamplona. I
have come to believe that nobody likes my answer. I will try to put the same answer in new words. The following is my attempt to help you lose as much weight as possible without putting yourself in physical danger.
There is one key item to remember when trying to lose weight. Weight loss is not just an event that happens and then you continue to live how you did before you lost weight. Weight loss is something that I assume all of you would like to be permanent, right? You must then make the following suggestions a permanent part of your life.
1.White is the new BAD!
It is pretty safe to say that if the food you are about to eat is white, it is probably loaded with carbohydrates or calories or both. Stay a galactic distance away from breads, rice (yes, even brown), cereal, potatoes, fried foods, tortillas, pasta and just about anything with breading of any sort. If the food you are about to eat is white, was white or will be white, just picture every bite adding another roll to your body in a place you don't want rolls. Whiter = Wider.
2. Eat outside the box
The wise and infinitely energetic fitness guru Jack Lalanne once said, "if it's in a box, don't eat it." Lalanne suggested selecting foods from the outside of the grocery store. That is usually where the unprocessed foods are located. Boxed foods are typically loaded with fattening carbs, sodium and pretty much anything else that causes cancer, obesity, diabetes or death. Stick to veggies, eggs, chicken, lettuce or fish. Boxes will make you look like a balloon.
3. Don't drink your calories
Sugar is white; therefore, according to weight loss rule #1, sugar is bad. If your soda or beverage of choice has double-digit sugar grams, shame on you. Pour it out and smack your hand. To make it easy, stick to drinking water, green tea or coffee – all with minimal sweeteners of any sort and limit creamer to two tablespoons. Red wine has shown to extend life expectancy and lower blood pressure. Limit Red wine to two glasses daily. White wine? See rule #1 about the color white.
4. Give the doctor his fruit back
An apple a day, or orange, or whatever fruit will not keep the doctor away. Don't eat it. I know, I know. "The media says its good for me and there is even fruit on that pyramid thing that's on my cereal box." Put the cereal AND the fruit down. NOW! You will be fine without fruit everyday. It is loaded with that evil white sugar hidden behind the name fructose. Our body will turn that sugar to stored fat so fast that last years swimsuit will be this years oil rag in the garage. Fruit juice is no exception. Some fruit juices, yes those cute bottles of fruit-flavored sugar water we give to our kids, are even worse than sodas for sugar content. There are some obvious objections to this rule, but for the sake of losing weight as quick and long-term as possible, just say no.
5. Take a day off
Watching what you eat can be stressful and boring. Allow yourself one day a week (my "cheat day" is usually Sunday) to eat the cookies in the office, steal your kids Easter candy, and order that pie for desert. The funny thing is, when you dramatically spike your calorie intake once a week, it actually promotes fat-loss by not allowing your metabolism to plateau. Limit this heavenly fat-filled, no calorie counting euphoria to only once per week and watch your belly shrink back to size.
So there you have it. The same rules I tell all my clients. It's not hard. Think about it. You now only have to shop the outside of the grocery store. You need only to buy a small number of items. You can still eat crappy foods. You lose weight. I think I just may have made your life a little easier. Follow these rules and don't listen to fancy marketing or late night infomercials.
When you feel like you're losing sight of what to believe, return to this blog and read it once again.
The average American consumes about 200 pounds of white flour per year.  That same American also consumes about 160 pounds of refined sugar per year.
That equates to consuming almost 1 pound of toxic, empty calories, EVERY DAY!
Your mother probably knew that giving you candy caused you to become hyper as a kid.  You've probably heard that drinking regular Coke or almost any soda is bad for you for some reason or another.  Did anyone ever tell you why sugar was bad?  Growing up I just knew that sugar tasted good and my mom didn't want me to have it, the two best reasons to do anything as a kid.
Even today for most of America, most people don't know that the refined sugar we have been ingesting from soda, cookies, orange juice, breakfast cereal and even ketchup have been causing diseases.  Some of the most common sugar related diseases are cancer, diabetes, premature aging, migraines, obesity, mineral deficiencies and arthritis.
As if those diseases weren't enough to make you reconsider your daily dose of sugar, what if I told you that consuming sugar was almost as bad as taking a narcotic drug?
MIT graduate and vitamin science expert, Raymond Francis explains sugar's addictive qualities: "Animal studies show that regular consumption of sugar causes long-lasting changes in brain chemistry, similar to those caused by street drugs such as cocaine or heroin.  These changes mean that even a single exposure to a sweet, salty or fatty food will change gene expression, stimulating opioids in the brain.  These pleasure chemicals are addictive."
Sugar is cheap and its various chemical cousins are even cheaper.  Sugar helps food look better, taste better and sell faster.  Your beach body is paying the price.
What Sugar Doesn't Work in Our Body
Sugars are referred to as empty calories because they do not contain vitamins or minerals.  There is absolutely no nutritional value to our body.  Since your body cannot process these sugars, it will store them.  In your butt, thighs, belly, breasts, and arms.  Unfortunately, it doesn't end there.  When those other areas get maxed out, your body begins to store that fat (consumed in the form of sugars) in areas around your vital organs like the heart and kidneys.  This eventually leads to high blood pressure and even damage brain function.
So if consuming sugar makes us fat and stupid, is in just about every food, what can we do?
First order of business is stop feeding the habit.  Just as smokers have to slowly wean away the lure of the taste and "buzz," so does the sugar lover.  Simply replacing the sugar in your diet has helped thousands drops 5-40 pounds. Below are some common ways to help you satiate the sugar craving, without using sugar, of course:
1-    Read the label.
Sugars have been getting clever over the years.  Sugars often hide behind names like Raw, Pure, Cane, maltodextrine, cane juice, honey, rice syrup, molasses.  Just about anything that ends in "ose," sucrose, dextrose, fructose, glucose, and levutose.  Those words are now bad words and should be a flashing red light signaling you to step away and find a more suitable, less sugar-loaded option.
2-    Sweeten naturally
Stevia is a great way to sweeten a beverage or even foods.  At first Stevia was a tad bitter, but with the growing need for a sweetener without harmful side effects, the manufacturing processes for Stevia have significantly improved its quality.
3-    Chew gum
I know, I know.  Youre probably saying, "There is no way gum can replace my Mountain Dew or ice cream."  I was right there with you, but drastic times call for drastic measures.  When your pants no longer fit, when your brain slows and fat deposits surround your heart, a nice spearmint gum seems like a pretty good solution to avoiding disease or expensive surgery.  Changing your diet takes a lot of will power and if your health means enough to you, the time to change is now.
A favorite quote of mine goes something like this: " If you keep doing what you've always done, you'll keep getting what you've always gotten."  If you keep eating what you have always eaten, you'll probably not see much of a change.  Read those nutrition labels.  Stop killing yourself slowly with empty calories.
Remind yourself that you don't need soda and sweets. Be firm with yourself and when the power of your will prevails, you just may find yourself buying smaller jeans, eating healthier foods and living a better quality life.
Lets face it, there are about as many suggestions for losing weight as there are excuses for calling in sick to work.  Everyone thinks there way is better than the other guy but at the end of the day, like the excuses, deep inside you know you're probably being lied to.
After prodding the brains of some of the top exercise scientists in the nation we have come up with a few facts that will help you understand how fat works with your body.  Then we will tell you how to fight that fat away like it was stealing your purse at Disneyland.
Fact #1
Your Basal (Resting) Metabolism is the responsible for up to 75% of daily calories burned 
Your Basal Metabolic Rate (BMR) is the rate at which your metabolism burns calories when you are doing nothing at all.  This resting rate is powered by simply breathing; your heart beat, listening to music and even your cells dividing.  Your BMR accounts for 60 to 75 percent of your overall metabolism.  The largest factor in you burning calories is almost out of your control.  How can you lose weight if you don't even have control over your BMR?  You can and you will.
Fact #2
The more fat there is in your body, the fatter your body becomes
Fat is a terrible enemy in our body.  For your body to support just 1 pound of fat, it only needs to burn 2 calories a day.  Meanwhile, doing nothing at all, 1 pound of muscle burns three times the calories just to sustain itself.  The funny thing is, the more calories you burn, the more body fat you tend to lose.  Simply having muscle in your body burns more calories while you do nothing at all.  "I don't have a lot of muscle nor do I want to be muscular, you may say."  Not to worry, we have a solution.
Fact #3
Training with weights is the ultimate fat fighter
If muscle burns calories, then bigger muscles burn more calories.  Recent studies show that a single session of training with weights can have a dramatic effect on your metabolism for up to 39 hours after you exercise.  (This doesn't include the calories you burn while you are actually exercising.)
Jeff S. Volek, Ph.D., R.D., an exercise and nutrition researcher at the University of Connecticut, was able to demonstrate in a recent study that people who built muscle lost almost 40% more fat on restricted-calorie (like with hCG) diets than those who didn't exercise or perform aerobic activities.
So what should you do?
Lets back up to Fact #1.  If how your body operates while doing nothing is out of your control, how can you, well, control it?
Eat protein.
That same researcher from the University of Connecticut, Jeff S. Volek, Ph.D., R.D., says that at any given moment, even at rest, your body is breaking down and rebuilding muscle.  Every time you eat 10-25 grams of protein your trigger a natural muscle-building process called protein synthesis.  This not only triggers muscle growth, but your body burns more calories when digesting protein than it does when digesting fats or carbohydrates.  Your body burns about 25 calories for every 100 calories of protein consumed.
Try incorporating 10-20 grams of protein into each meal.  Try eating lean meat, seafood or eggs.  Don't worry, eating more protein is not going to turn your body into a green Hulk-like monster.  In fact, quite the opposite will happen.  Eating protein and exercising with weights as opposed to running, has shown significant reductions in fat loss and lean body weight.
Eat Breakfast
In Fact #2 I mentioned eating protein.  This is crucial and can be done easily by supplementing with a low-calorie protein shake are by eating lean meats and seafood.   The first step is a good breakfast.
Again, the science shows that we have been wrong about losing weight.  Eating less often can hinder your weight loss efforts. Skipping your breakfast can increase your risk of obesity by up to 450 percent! Studies show that people that eat breakfast eat up to 150 less calories throughout the day.  Don't skip a meal in hopes that your body will just burn calories while it doesn't have food.  Your body will resort back to its primal instincts of conserving energy while it is in short supply.   Eat a healthy breakfast.  Try whole grains toast with fried eggs and a protein smoothie with your favorite fruit.
Exercise with weights
"I don't want big muscles," you may say.  Well exercising with weights does not mean you will start bench-pressing the boss's car to get a raise.  You are trying to replace the fat in your body with muscle.  Muscle is far denser than fat and takes up a lot less space in your body.  Exercising with weights will accelerate, specifically, fat loss and help you reach your weight loss goals far quicker than aerobic exercise alone.
Try walking with 3 to 5 pound weights in your hands or try using ankle weights.  Even taking small weights to work and doing bicep curls and shoulder presses while you read this article can help you get the body that is the envy of the office.
Now get to work.
With so much nutrition and diet information roaming through the media, it can be difficult to differentiate what is real and what is glitzy media hype. As a personal trainer, nutrition consultant and fitness competitor, I have had to sift through my fare share of fitness magazines, nutritional seminars and college courses. I have condensed and refined the mountain of information into a manageable top ten list. The following is a list of the 10 most successful methods of losing 5 pounds in one week without a dramatic lifestyle change:
Tip 1: Stop counting calories
This may make anyone who has ever dieted laugh in disbelief. Remember when reduced fat and no fat foods were the focus in the diet industry? Do you also remember that reduced fat foods sold like crazy while the obesity epidemic spread like wildfire? New research shows that calorie counting, like reduced fat foods, is not the end-all solution to losing weight. Scientists suggest that what you eat may be just as important as how much. Foods that are rich in nutrients and low in carbohydrates and sugar are key for effective weight loss. Try replacing tortillas with lettuce leafs and potatoes with a green vegetable for starters.
Tip 2: Drink more water
Yes, you've heard that drinking 8-10 glasses of water per day is crucial for your health. Drinking water can also help you lose weight. Drinking water before a meal takes up space in your stomach, making you feel full sooner. Simply drinking one glass of water before your meal could help you cut up to 100 calories or more per meal.
Tip 3: Eat more meals
That's right, another suggestion against what has become industry standard. I'm not suggesting eating more food, I'm suggesting more meals. Breakfast, lunch and dinner with a snack between breakfast and lunch and again between lunch and dinner. Planning your meals and snacks can help you reduce those impulse high-carb snacks that can slow any diet progress. The key is to accelerate your metabolism and replace sugary and high-carb foods with nutrient rich meals and snacks to stave off hunger cravings.
Tip 4:  Include more protein
Jeff Hample, Ph.D., R.D., a spokesman for the American Dietetic Association says that, "Protein is made up mainly of amino acids, which are harder for your body to breakdown, so you burn more calories getting rid of them." In addition to burning more calories, amino acids help aid in recovery from cuts to muscle damage. Protein contains the building blocks for our body and is typically low in fat and calories.
Tip 5: Get some rest
Research shows that people who get adequate sleep lose weight easier and quicker. Lack of sleep can cause hormonal imbalances causing weight gain. People with inadequate sleep tend to snack more and have irregular eating and exercise habits. Recommended sleep for adults is between 6-8 hours.
Tip 6: Track your progress
Monitoring your weight loss can help you stay motivated and keep to your diet. Track where the weight is coming off with a fat caliper or weigh yourself regularly.  Even blogging or posting your progress on your Facebook will help you stay committed because you know people will be counting you. This way family and friends can provide supportive comments when you do well.
Tip 7: Cook your food
Cooking what you eat makes you mindful of what you are putting in your body. The act of cooking itself burns calories. Cooking your food and healthy eating begins with learning about nutrition, which will make future diet choices easier.
Tip 8: No more soda
Did you know that just one 12oz can of Coke has 39 grams of sugar! That can alone is enough to stall any diet. Sodas
and many of the most common drinks available at a gas station or grocery store are loaded with hard to digest, diet-killing sugar. Try to incorporate green tea (excellent for added weight loss benefits) or calorie-free flavored water drinks into your diet if you need to satiate your sweet tooth.
Tip 9: Eat healthy fats
Now you're probably wondering, who is this guy? First don't count calories, then eat more food and now I want you to eat fats? Before you grab the bacon, I am referring to the healthy fats. That's not a typo, there are such a thing as healthy fats. Denying your body of healthy fats can disrupt your hormone levels and increase your hunger cravings. Healthy fats are found in foods like nuts, eggs, seeds or avocados. Try eating these foods for the between meal snacks mentioned in tip 3.
Tip 10: Don't eat foods from a can or box
Most of the foods that are processed and preserved tend be high is sugar, sodium and carbohydrates. By eating whole, fresh foods from the grocery store you can cut away huge amounts of excess calories and sugars. You may even find that fresh food really does taste better. Eating healthy shouldn't feel like a chore.
You don't need to make a dramatic lifestyle change to see results. Simply following these 10 tips for losing weight this week can help put you on the track for long-term success. For more information on weight loss and living healthy, visit www.platinumbodyperformance.com. Good luck with your weight loss journey.
This guide is a great tool for anyone using any form of hCG  i.e. people who are doing the protocol under the supervision or help of a physician, homeopathic or other method of the HCG protocol. This guide will fill in all the areas that are not fully supported a practitioner or other hCG material. The guide includes tips, menus, charts, allowable product, sample menus, and everything else you need to successfully lose the AVERAGE 20 – 30 pounds in about a month. The book includes information like calorie content, fat, portion size and more for over 1000 foods.  The book also includes extensive information on the maintenance phase. This should save both the practitioner and the participant significant time and give a high comfort level to everyone also.
What customers say about the 4th edition:
"This is a wonderful book to guide one in a successful weight loss program. I first saw it in the office of my osteopathic physician.  This revision is extremely helpful and this book is the "Practitioner Guided" version, leaving no stone unturned. This new Red-covered fourth edition, published in 2011, is full on information to understand how the HCG diet works, what to eat, how to plan meals, and tips for success in losing weight and then maintaining it. I found the HCG helped my sugar cravings, which was wonderful as I was a "chocoholic." When my blood sugar dips or I get truly hungry, eating an apple really helps."     -H.  Sonney.  Idaho
"Using Platinum Body Performance hCG Pellets, along with this book helped me lose 42 pounds. I'm now a size 10. The program was amazingly easy and I'm keeping the weight off with no problem."         F.  Lovett.   Ohio
This new revision has up to date diet information for all forms of the hCG Diet, homeopathic, practitioner assisted, shots or the hCG Drops.  This book includes the original hCG Diet protocol by Dr. Simeons and is often regarded as the 'HCG Bible.'
This book is available at the bottom of the page in our hCG Diet Store.
For as far back as anyone who has dieted can probably remember, reducing the amount of calories is supposed to result in adipose (fat) weight loss.  This is the common theme from most government agencies including the FDA, The American College of Sports Medicine (ACSM) and many other organizations.  Many of them citing that "Weight management is all about balance – balancing the number of calories you consume with the number of calories your body uses or 'burns off,' " says The U.S. Centers for Disease Control.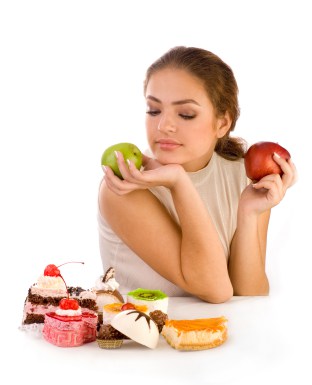 If it is so simple that we need only reduce the amount of calories that we consume or simply expend above what we consume, why then is the weight loss issue so persistent?
I would like to argue that the quality of food that you eat is far more important that how much.
While the hCG Diet relies initially on the reduction of calories for weight loss, the second, and arguably the most important aspect of the diet, is what you are eating.
Many hCG dieters have experienced phenomenal weight loss on the program.  We have even had one customer lose over 120 pounds!  While weight loss products are where we are able to help customers directly, we would like to offer advice on the maintenance phase of the hCG Diet per the suggestion of many customers.
1.  What you eat can be just as important as how much
Try to eat foods that are rich, complete sources of nutrients.  Food like fish, turkey and vegetables.  Although fruits and fruit juices are healthy, many of them are very high in sugar content.  Starches and sugars are a dieters worst enemy.
2.  Under eating is elusive
When you hop on the scale and it shows you a number that was larger than you expected, a common belief is that maybe you ate too much for dinner last night or breakfast this morning.  While both of those may very well have contributed, reducing how much you eat, says recent research,may not be the solution.   Foods like rice and potatoes are very carbohydrate and calorie dense, requiring longer digestion and typically have low nutrition value.  Instead of eating less, try eating healthy.  Have asparagus with your steak instead of potatoes.  Instead of rice, use lettuce.
Exercise is important and can help significantly with any diet regimen, but it wont be the end-all for every person looking to maintain their weight.  What we choose to eat can be just as vital to our health as our fitness.  In maintaining your weight, try using a calorie-free flavored water to stay hydrated.  If you have a sweet tooth, many grocery stores offer an entire selection of sugar-free cookies and candies – sugar free does not mean carbohydrate free.  While working hard to lose the weight and keep it off, we are encouraging you to be mindful of what you eat as much as the quantity.
Visit other weight loss related articles HERE.